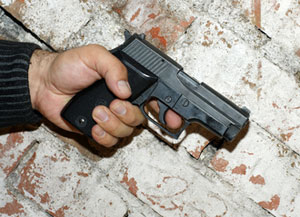 Chris Swatosh has represented hundreds of clients throughout his career as an attorney.  He has extensive courtroom experience in every phase of the criminal case process, including winning suppression hearings and  jury trials in serious felony cases.   Before committing a significant portion of his current practice to representing people charged with crimes, Chris was the elected Prosecuting Attorney for Douglas County.   He has also held the position of Assistant Prosecuting Attorney in Ozark and Texas County as well as the Municipal Court Judge in the city of Ava, Missouri.
Having years of practical courtroom experience as both a prosecuting attorney and a criminal defense attorney gives Chris a vast amount knowledge and skill to represent clients charged with crimes.  If you are charged with a crime, whether it be a traffic ticket, misdemeanor or serious felony, contact the Law Office of Christopher J. Swatosh today for a free initial consultation.
Types of Crime
There are two major types of crime: felonies and misdemeanors. The difference between these two types of crime is defined by the potential punishment for committing them. To find out more about the punishments in misdemeanor and felony cases contact Law Offices of Christopher J. Swatosh, LLC.
Felonies
A felony is a crime that is punishable by imprisonment for longer than one year. Common felonies include:
Murder
Burglary & Stealing
Drug and DWI felonies
Sex Offenses
Kidnapping
Assault in the 1st Degree / Assault in the 2nd Degree
Misdemeanor
A misdemeanor is a crime that is punishable by imprisonment for a year or less. Common misdemeanors include:
Petty theft
Driving under the influence
Minor in possession of alcohol
Misdemeanor Assault